Six tips for studying over Christmas.
03 Dec 2020
Trying to fit in some study over Christmas?
You are not alone.
Many students use the Christmas break to get some extra study in.
This can be a daunting idea for some. How do you set aside time to study when you have been inundated with party invitations to celebrate Christmas and the New Year? How can you balance your commitments to study, work, family and friends this festive season?

CUC is to the rescue!
We have put together some holiday study plan tips to help take the pressure off and allow you to make the most of your time.
Make a plan – If you fail to plan, you plan to fail. With all study goals, you need a plan, so this time is no different.
Put it in your diary – Ask family and friends ahead of time for dates and event details.
Block out time – Commit a set amount of time to study. Is one hour a day enough? Or do you need/prefer a block of a few hours at a time? Work out your needs and commit them to paper.
 Set a place to study – with all the festivities going on, your local coffee shop may not be the best place to focus.
Give yourself the gift of time – Why not ask for study help as a gift? Books are expensive, why not ask for subject related books to help keep your interest up.
Allow down-time – Christmas is a special time of the year and should be enjoyed with family and friends. Without some enjoyment over this festive period you may find studying, in the upcoming year, to be that little bit harder. Be sure to take time to stuff yourself with some Christmas pudding, you can always burn it off later!
Cathy is studying a Bachelor of Business/Marketing with Charles Sturt University and finds it hard to fit everything in.
"I am trying to shorten the length of my degree, so  I choose to study every summer session. This is very hard over Christmas as i have multiple family committments and many distractions".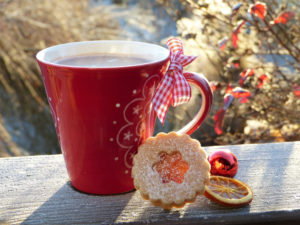 How can CUC help?
Drop-in and let us help you create a study plan specific to your needs. CUC is open from 6 am until 11.59 pm giving you access to a dedicated study space without distractions. Leave the festivities behind and focus on your work. This will make the most of your time, allowing you the freedom to relax and enjoy the season.
CUC are here for you, so give us a call, drop us an email, or drop in and have a chat.
CUC wishes every student success in their studies and a very Merry Christmas and a Happy New Year!